By ConceptNova on 7th April 2022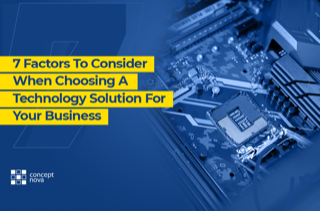 There are thousands of business technology tools today to make doing business easier. For every need, there is a solution.
One thing is certain though – you can't use every technology solution you see for your business. So, with the numerous options available, how do you choose the right technology for your business?
The Need
When it comes to spending money on implementing more/new technology, it is wise to be conservative.
Aside from the standard costs of buying the product, there are many others, including the time and other expenses of integration and implementation.
While the outcome may be worth the costs, you really need to be sure if there's a real need for the technology. Basically, if it's not broken, there may be no need to fix it.
Time, Money, and Productivity
Another cost of implementing new software can be a temporary decrease in the workflow.
At the end of it all, are the eventual savings of time and money, along with the increase in productivity, large enough to justify the upfront inconvenience?
Figuring this out may take some calculations, but you shouldn't jump into anything without knowing the numbers for sure.
Credibility
Before adopting that technology, you should find out how credible it is. Do your due diligence and find out if other respectable companies are using similar solutions.
If they are, what feedback do they have? Do they have positive things to say about the services and outcomes? These can be signs of stability and longevity.
Once you're satisfied with your findings you may go ahead with the new solution.
Customizability, Adaptability, and Scalability
The business world has grown such that agile and swift innovation is required in these fast-evolving days of doing business.
Does your solution use the latest technology? Does the company release updates regularly? Can the software integrate seamlessly with your other systems? Will it be able to grow with your business and adapt to its changing needs?
Answer these questions and you'll be able to make more informed business decisions.
Employee Buy-In
It is common to experience some resistance from your employees whenever a change is introduced. However, you can reduce it if you have buy-in from the majority of those whom the change will affect.
Before you adopt the new solution, solicit opinions, listen to suggestions, and garner feedback.
Ultimately, it's not their choice to make, but involving them in the process will not only make it run smoother but also grant invaluable insight that otherwise may have been overlooked.
The Cost and Time for Training
Even if you have employee buy-in, the cost and time it takes to train on new technology can have a significant impact on your business.
This hidden cost must be accounted for so you can have a budget and backup plan ready.
Optimum efficiency takes time and may require ongoing training to gain the full benefits of your new software.
Transition and Tech Support
Having the vendor's support during the transition and after implementation is crucial.
You'll need help with installation, upgrades, troubleshooting, and security. This should be provided through training and support to your staff as well as support to your IT department.
Ultimately, the adoption of new technology for your business is aimed at improving profitability. By considering these seven factors, your new solution is likely to be a profitable investment. If not, then your organization is better off skipping it.
At Concept Nova, we have affordable technology solutions that will improve your business efficiency and profitability.