By Tobi Coker on 28th October 2020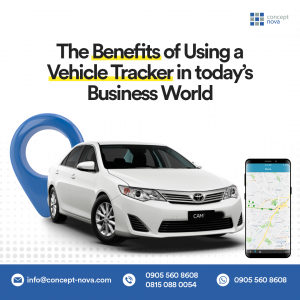 GPS tracking has become important today in business because it allows business owners to understand how their vehicles are being used and what needs to be improved upon. Making use of a vehicle tracker guarantees a certain level of confidence over one's operations.
Reasons why every business needs a vehicle tracker:
1. It helps to monitor the vehicles and those who drive them: a vehicle tracker allows for you as a business owner to know where your vehicle is at any given time. If you have a fleet of business vehicles, you must be able to follow them up and know where they have been operating. This can only be possible by installing trackers on them so that you can observe at your own convenience. For example, trucking companies and other delivery services can view the locations of all trucks in their fleet from a central dispatch location in real time.
2. It increases productivity in business operations: When employees know they are being monitored, they naturally become more productive and responsible. Driver downtime, less use of the company's vehicles for personal use, unauthorized stops and side movements are some of the things you enjoy as a business owner when making use of a vehicle tracker. Businesses providing company vehicles for salespeople and other employees to use during work hours can track where the vehicles go throughout the day, ensuring that employees in the field remain focused and maximally utilize company assets.
3. It helps to locate stolen vehicles: One major benefit of vehicle tracking systems is theft prevention. This feature sends alerts and notifications whenever suspicious behaviour occurs and enables users to initiate a quick reaction. This feature can also ensure that the excessive costs of acquiring new vehicles are prevented.
4. It helps to make employees feel safe: As a business, one of the most important things is to ensure the safety of one's employees. Through vehicle tracking, you improve the security of your workers. This knowledge that their safety is paramount gives the employees confidence to carry out their assigned tasks.
5. It makes your business smarter than the others: Using a vehicle tracker helps set your business apart from the others because using a tracker allows one to effectively monitor the movement of vehicles and this allows for a business to give an accurate description and estimation of arrival times. This stands for credibility as being unsure of time in today's business world is not acceptable.
From all these, it is pertinent to note that as a business, there is a need to employ the use of a tracker that allows for one to adequately monitor and evaluate the use of the vehicle and TIKON solution from Concept Nova is arguably one of the best on the market.
For more information, click on link (https://concept-nova.com/enquiries) or call (Tobi on 0815 088 0054) or reach us via our social media pages.
o Twitter: @concept_nova
o Facebook: Concept Nova
o Instagram: conceptnova
o LinkedIn: Concept Nova
o YouTube: Concept Nova
To make an order, click on link (https://www.concept-nova.com/order-now). You can also visit www.concept-nova.com for more information on how our solutions can help save you money.