As an entrepreneur, all your energy goes into maintaining and expanding your business.
To do this successfully, you need some IT tools /equipment that will not only save you time and money but also improve productivity and profitability.
We've put together a list of must – have tech products, apps, utilities, and services to get your small business working.
All -in -one Copier/Printer/Scanner/Fax
Even in this age of email and the cloud, it's inevitable to deal with paper sometimes.
You may need to print out a proposal, send a quick fax or make a copy of a document urgently.
So, you're hardly to find a business that doesn't still occasionally need a printer, fax, or copy machine. An all-in-one unit is a good way to achieve more with the same amount.
Network Attached Servers
NASes are a good fit for small businesses.
They provide a way for everyone in the business to share data, and sync files across multiple computers and mobile devices. They also offer backup options.
It's the simplest way for businesses to share data across multiple sites and users in a secure and private way."
A Router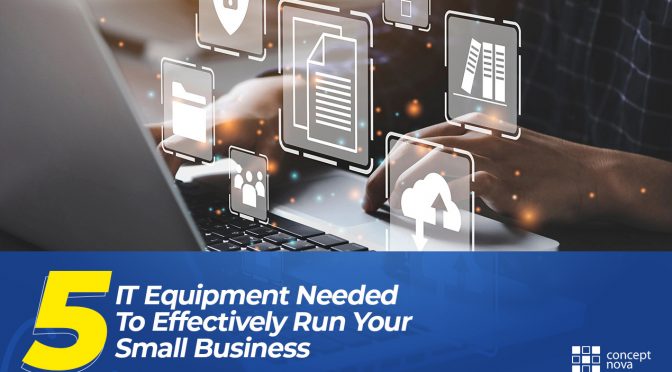 The router is a small but important piece of office equipment that sits between an internet modem and the office network. Sometimes an internet modem can double as a router.
However, a standalone router provides a number of benefits.
A router can be used to set up a virtual private network (VPN), which makes it possible for those with the right permissions to securely connect to network devices from home or while traveling.
Uninterruptable Power Supply (UPS)
Since modems, routers, and switches are low-power devices, a low-end UPS can keep these running for a few hours during a power failure.
Employees using charged-up laptops can continue to work for a time.
More expensive UPS devices can keep servers and network-powered VoIP phones running for hours.
A Big Screen TV
Many businesses now go for Big Screen TVs instead of projectors because TVs are quiet, the image is crisper, there's no bulb to burn out and a shadow can't be cast on the screen.
All TVs have multiple HDMI ports standard and most new projectors include an HDMI port.
This means that devices such as Apple TV, Chromecast with Google TV can be plugged into the TV or projector. This, in turn, means that almost any device can be wirelessly connected to either the TV.